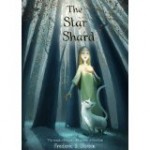 Now available from Houghton Mifflin Harcourt (February 28, 2012): The Star Shard. 320 pages; Middle Grade Fantasy (Ages 10-14); Hardcover; ISBN 978-0-547-37025-5. Cover illustration by Fernando Juarez.
Educators: For a Discussion Guide usable in classrooms, click here: http://www.fredericsdurbin.com/?page_id=1411
From Booklist:
"Durbin has created a world that . . . comes alive with fantastic creatures and a varied cast of supporting characters. Cymbril herself is a strong heroine — loyal, resourceful, and brave. While this story is satisfactorily concluded with surprise revelations and limited loose ends, there is plenty of scope for a follow-up."
From The Bulletin:
"Evocative imagery, an enthralling world, and a fully realized storyline that does not depend on future installments make this a standout among recent pre-YA fantasies. The charm of old-school fantasy blends with the mechanics of steampunk aboard the Rake, making the massive city feel both menacing in its size and enchanting in its secrets. Cymbril's longing for freedom is deeply felt, and even as she acknowledges her privileges as one of the more well-kept slaves, her desire to become more than the possession of another person and find a life of her own will resonate with young readers just coming into their independence. Durbin's quiet, reverent tone does slow some of the more action-driven scenes, but the lush, almost poetic prose is something readers will want to linger over anyway."
From Michelle Villarmia through NetGalley:
"Frederic S. Durbin's The Star Shard is a fairy tale among fairy tales. The world is full of fantasy and wonder, perfectly fitting . . . I quickly fell in love with [the main character], despite our age difference. She showed me things that I hadn't seen in a while. She was fun to get to know . . . I connected with her.
"Durbin builds a magical world, perfect for the imagination of a young child. It's hard for me to fully express how much awe I was in. The images described were vivid, the world outstanding, and the characters wonderful. . . . It was a nice break away from the worlds of emotional teenage angst."
From Sharon Schmidt Tyler, through Yahoo! Voices:
". . . A wonderful fantasy novel for children around eleven to fourteen. However, older and younger children, and adults, can enjoy this book as well. . . . A brilliant new fantasy world, and I am eager to see this story continue on in future books.
"The Star Shard has all the elements of classic adventure stories, coming of age tales, and fantasy. However, nowhere does it come across as overdone or stale. There are hints of Neil Gaiman . . . but the voice . . . is very fresh and new.
"I highly recommend The Star Shard to fans of fantasy and coming of age stories. Anyone that enjoys middle school or young adult novels with cleverly drawn characters will enjoy the book. The complete cast of characters were fleshed out and entertaining. . . . While the story . . . had a satisfying ending, it still left me clamoring for more. I sincerely hope that there will be at least one sequel . . ."
From Asher Knight, through NetGalley:
"An engrossing, fascinating tale . . . a wondrous fantasy read that reminded me why I adore the genre so much and granted me characters I was surprised, but thrilled, to love.
"As a general rule, I don't do middle grade (MG) books. I thought I found them lacking somehow. However, from the moment this title called to me on NetGalley, I suspected something would be different in The Star Shard, and my intuition was spot-on. . . . It spotlights growth and the potency of kindness and a nightlight-sized spark of romance in the burdening shadows. More, the fantastical world-building is a soft, compelling voice that takes us through and tells of a vivid, magical world, one so thoroughly built, we almost refuse to part with it. . . . We find ourselves completely enraptured.
"The plot . . . builds up in intensity, crackling with heart-pounding mysteries, cunning maneuvers, and unexpected battles with magical creatures . . . Sorcerers and witches, transforming animals, and Fey lore rolled into one creation propel this amazing storyline.
"The . . . ending awaits us, closing the book in one wide profound and wrenching sweep that leaves us fully, almost foolishly, pleased. I couldn't have asked for better!" 
Synopsis:
Twelve-year-old Cymbril is a slave on the Thunder Rake, a city that is an enormous wagon, rolling on gigantic wheels. With her companions the cats, Cymbril loves to explore the endless, shadowy corridors and ancient decks, where secrets lie hidden. Her task is to sing for the entertainment of crowds whenever the Rake stops at a town to sell its merchants' goods. Together with her mysterious new friend Loric, a Fey boy, Cymbril plans to escape. Witches and a fat frog watch her every step, and something huge and sinister pads in the dark when all the Rake is asleep. One chance to get away draws near; time is running out. Cymbril is haunted by the past, drawn toward the future by the fragment of a star . . . but first she must survive the present.
From the Book:
"Cymbril whirled to the trunk again. She gathered an armload of dresses and arranged them under the bedcovers in a shape that looked like her. Putting on the cloak, she tucked her hair away, pulling the hood low around her face. Then she used the key to unlock the door.
"As quietly as her leather slippers would carry her, she made her way into the deep darkness."
The Star Shard may be purchased from any of the vendors below:
Amazon www.amazon.com
Barnes & Noble www.bn.com
Books-A-Million www.booksamillion.com
Houghton Mifflin Harcourt www.hmhbooks.com
IndieBound www.indiebound.org
Powell's www.powells.com
For all inquiries concerning rights and permissions, please contact the JABberwocky Literary Agency.
"The Star Shard" was first published as a ten-part serial in Cricket Magazine from April 2008 to April 2009. During that year, I was the first Featured Author on the magazine's brand-new Author & Artist Corner. Emily Fiegenschuh was the first Artist. We each had the privilege of fielding questions from young readers all year long. Most of them were aspiring authors and/or artists themselves, so it was a grand conversation about stories, pictures, characters, the creative process, inspiration, and all things joyful and numinous! The readers' questions and our answers are archived on the magazine's web site. Just click on this link: http://www.cricketmagkids.com/corner/frederic-s-durbin
You can view the wondrous fan art for "The Star Shard" sent in by Cricket readers that year; the magazine has it on display at http://www.cricketmagkids.com/corner/fanart/submissions/2710
And you can even read the serial (almost) as it appeared in the magazine! It's in the archives at http://www.cricketmagkids.com/starshard
However, you do not want to miss Emily Fiegenschuh's breathtaking artwork for the story. I implore you to visit her web site, where (among many other marvels) she has the full gallery of her work for "The Star Shard." When you follow this link, be sure to scroll down until you see the section clearly labeled with the story's title: http://www.e-figart.com/efigart/e-figart_newgallery.html
From the Book:
"It was a clear night under a waning crescent moon, the stars brilliant and the air warm, scented of mud and the mustiness of a swamp. The Rake's claws, slicing into the marshes, made softer noises than usual. Water gurgled around the wheels. Beyond the rail, Cymbril glimpsed the clumped heads of trees brushing the lower decks. The rolling plain of moon-washed leaves stretched around the giant vessel for as far as she could see, parting before the bow, whispering along the sides. With its wheels and claws hidden among the trunks below, the Rake seemed a real ship plowing the waves of a silvery sea. Crickets sang in the Rake's groves, while tens of thousands shrilled back from the forest outside."
Very special thanks go to Deborah Vetter, Senior Contributing Editor at Cricket, who first suggested the idea of expanding the story into a book. "You know," she said, speaking of the story, "you have about half of a novel here." As it turned out, I had just over a third — but I probably wouldn't have thought of it on my own.
And very special thanks go to Kate O'Sullivan, my editor at Houghton Mifflin Harcourt, who truly knows her business, is a joy to work with, and helped me in countless ways to wrangle a shard into a book.