Arkham House, 1999; cover and interior illustrations by World Fantasy Award-winning artist Jason Van Hollander. Finalist for the International Horror Guild Award. Reprinted by the SF Book Club, 2001. Released as a mass-market paperback by Ace Fantasy, 2005, with cover illustration by Merritt Dekle.
From the Book:
"The wooden platform was a landing on a haphazard stairway, the steps of varying sizes and angles of inclination, as if it had been built with either no blueprints at all, or with an out-and-out malice toward pedestrians. Turning, it vanished around a dust-shrouded column above us and descended to darkness below."
Synopsis: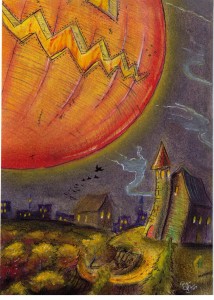 As Hallowe'en draws near, 10-year-old Bridget Anne, nicknamed Dragonfly, hears unearthly noises drifting up from the basement of her Uncle Henry's funeral home. Impetuously jumping down a laundry chute to satisfy her curiosity, Dragonfly finds herself in the subterranean land of Harvest Moon, where morning never comes, where autumn leaves never desert the trees — for it is constantly Hallowe'en night. Threading her way through this perilous realm of monsters, vampires, werewolves, and worse, Dragonfly must find a way to rescue the human children imprisoned by Harvest Moon's dark masters — and to thwart an invasion of the surface world.
Primarily for adults, Dragonfly may also be enjoyed by precocious younger readers. It is written in celebration of the wonder, nostalgia, and eerie delight of childhood Hallowe'ens, when jack-o'-lanterns flicker and things go bump in the night.
The summer of DRAGONFLY's release; photo by Phil Jacobs for the Decatur, Illinois HERALD AND REVIEW. Used by permission.
Reviews:
"A wonderfully original, superbly written, totally engaging, action-adventure fantasy epic." — Midwest Book Review
"Children's fears become real in this intriguingly odd, old-fashioned dark fantasy of a world beneath ours . . . At heart this is an old-fashioned tale of good vs. evil made distinctive by its roots in childhood fears and its gothic scenery, like a quirky campfire story made large or a warped celebration of Hallowe'en." — Locus
"Fans of Lovecraft and other horror writers will quickly learn to relish the name of Durbin, whose story . . . makes for hours of enjoyable reading . . . An outstanding story packed with many unexpected twists and turns." — The Bookwatch
"This is the perfect book for the Hallowe'en season . . . worth a try for something different and for those delightful chills up the spine you get from a great suspense yarn." — Rambles
"As a horror-fantasy amalgam, Dragonfly is a marked success. Durbin is gifted with a prodigious fantastic imagination . . . The verve, panache, and assurance with which Dragonfly is written make us marvel that it could be a first novel; Durbin is a 'find' in whom Arkham House can rightly be proud." — S.T. Joshi in Weird Tales
Fans of This Book: Test your knowledge by taking The Dragonfly Quiz on the book's page on Goodreads at this link: http://www.goodreads.com/quizzes/results/13494